Article Archives
Resources
search
forum
Latest Topics ::
Anyone remember my mum Betty Silke from St Grellans Terrace 1940s?
( replies) in
History and Genealogy
by LynchL, 31/10/14
Builders for settlements in Cochin
( replies) in
Off topic
by SchmitersonGilde, 31/10/14
The Walsh family
( replies) in
History and Genealogy
by Suzanne Battey, 31/10/14
Hynes/Hines
( replies) in
History and Genealogy
by BMcG5, 31/10/14
Requiescat in Pace - family notices (deaths)
( replies) in
General Ballinasloe Related Chat
by damomac, 31/10/14
Ballinasloe.org - News, Views & Fiery attitudes
The October Fair in days gone by ...

The Ballinasloe Fair: over the 5' 6''wall in grand style
An engraving depicting a scene from the October Fair, published in "The Graphic", February 19, 1887. This stone wall jumping competition was mentioned in a number of reports from the period.
Check out these and more historical images of Ballinasloe in the new photo gallery >>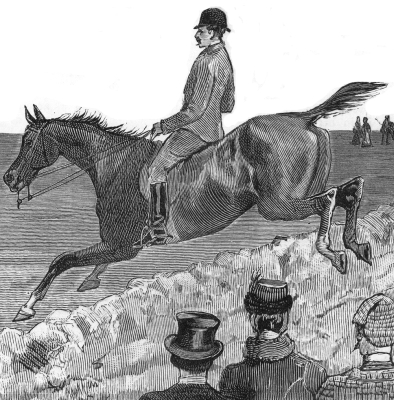 Upcoming News & Events

History Lecture on Michael Davitt 11/12/06 - 11/12/06
Ballinasloe Library
Bernard O'Hara, Registrar of the Galway-Mayo Institute of Technology, will give a lecture on Michael Davitt. His talk has been organised by the Uí Mháine Historical Society.
read more ...
---
Latest Articles
Places
Ballinasloe in 1841
Transcribed and submitted by Damian Mac Con Uladh
A town "with the air of business and an appearance of prosperous industry which I had not observed since I left Cork" and the "centre of the inland trade and commerce of Ireland" is how two English travellers described Ballinasloe in the early 1840s.
---
Events
Clancarty's sectarianism in the 1820s
Damian Mac Con Uladh
The October Fair was not just an agricultural event; as it represented a massive gathering of the rich, powerful, and not so prominent, it was the scene of major political meetings, especially before the arrival of mass transportation. These articles, taken from 1826 and 1828, report on the sectarian activities of Lord Clancarty and the attempts by the restless Catholic gentry and emerging middle class to counter them.
---
People
Matthew Harris commemoration 1984
Damian Mac Con Uladh
In 1984, Creagh Community Council and Tadhg Mac Lochlainn organised a commemoration at the grave of Matthew Harris in Creagh Cemetary. In addendance was Ulick O'Connor, a great-great grandson of Harris.
---
HElp your town!
Ballinasloe.org is a work in progress. It is a voluntary effort, set up and currently being run by three Ballinasloe people living in Greece, Italy and Norway. Your participation and contributions are always welcome and please don't hesistate to contact us if you feel you have something to offer.
Looking forward to seeing you online!